KINNAIRD HOUSE
History of Kinnaird House, Larbert, Stirlingshire, Scotland.

If you have any information or pictures that you could contribute to this web site, please send it to:
Contact:

Kinnaird House - Orr Family

Kinnaird House - Orr Family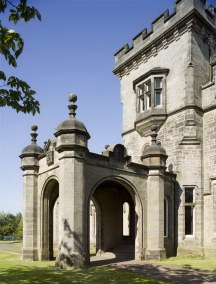 Robert Orr, who built the present mansion house in 1897, was a Chemical Merchant from Glasgow. He also owned the Lime Wharf Chemical Works in Falkirk. He married Jane Simpson from Whitehouse Terrace, Edinburgh on 8th April 1874. They had a family of 5 sons and 3 daughters.
The following information and photographs kindly donated by Mr William Orr (son of James Harper Orr) on a visit to Kinnaird Aug 2009.
Orr Family Timeline
Robert Dundas Orr born 16th June 1875
George Simpson Orr birth 31st March 1877
James Harper Orr born 18th October 1878
Marion Maude Orr born 25th May 1880
Agnes Hilda Orr born 15th June 1882
Francis Jane Orr born 13th December 1883
Arther Roxburgh Orr born 27th December 1884
Archibald Edward Orr died aged 10 months 1886 (information from Anne Anderson Oct 2010)
Robert Dundas Orr joined family business Married Maude Austin and had 1 son Ian Robert Loyd Dundas Orr born 2nd March1901. They lived in Carronhall House.
George Simpson Orr joined family business, married Cybil Murray Ross-Taylor and had 3 daughters, Margaret, Zoe,Maud, he died 1st march 1941
James Harper Orr, Advocate, married Muriel Ellen Wilson had 2 sons Robert Orr and William Orr and died 19th March 1956
Marion Maude Orr remained a spinster died 1952
Agnes Hilda Orr married JA Anderson had 3 sons Norman, Stanley, Douglas.
Francis Jane Orr married Walter Ross Taylor had 2 sons Walter and Robin
Arther Roxburgh Orr, Captain 2nd Scots Guards, killed in action, France WW1
Photographs from George S Orr album 1903-04